THE DIETRICHSTEIN PALACE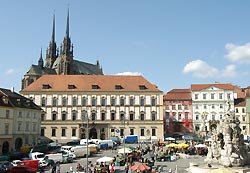 The early baroque Dietrichstein Palace was originally erected as a representative residence for František, Cardinal Dietrchistein, the bishop of Olomouc between 1614 and 1619. The building was designed by an Italian architect Giovanni Giacomo Tencallo, later reconstructed by another Italian Domenico Martinelli (1700). The palace is recognised as one of the most typical examples of baroque style in Brno. After the recent reconstruction in 1980s the palace became the most attended exhibition facility of Moravian Museum. It offers You an exciting tour through the centuries.




Address:
Dietrichsteinsky palac,
Zelny trh 8, 659 37, Brno
phone: +420 533 435 280
fax: +420 542 212 474


BEATLEMANIA
The exhibition presents the fate of the Liverpool group and shows how Czech young people perceived its music and message. This unique exhibition deals with the wave of beatlemania as well as the break-up of the group. It describes the work and destiny of its members and stages cultural phenomena of the 1960s influenced directly or indirectly by the Beatles. Parallely, the exhibition depicts the live of young people in the then Czechoslovakia, the official and unofficial culture of the country and the then fashion.
From May 25, 2011 to January 20, 2012
FAMILY PUPPET THEATRES - unpretentious tabernacles of Muses
The exhibition stages an important chapter of Czech amateur theatre, more precisely the phenomenon of the co-called family puppet theatre of the first half of the 20th century, especially from the visual, artistic point of view. It focuses on the industrial production of printed table puppet theatres and sceneries of Czech provenience and shows the most attractive and valuable objects from the collection of the Moravian Museum.
From October 20, 2010 to September 30, 2011
NEW ACQUISITIONS IN THE MINERALOGY STOREROOM
The wealth of Moravian and Silesian minerals has been attracting the interest of collectors, mineralogists and museum curators for several decades. The large permanent exhibition "World of Minerals" showing minerals and rocks from the collections of the Department of mineralogy and petrography at the Moravian Museum contains many impressive mineral specimens from Czech and worldwide sites. Inspite of that, most minerals stay quasi permanently hidden in the museum stores.
This year, the curators of the Department of mineralogy and petrography have decided to exhibit minerals acquired during the last 15 years as donations, purchase and through their own collecting activities. This time, minerals from the Czech Republic als well as those from all over the world are on display.
From January 26, 2010 - 1/2011, in the anteroom of the permanent exhibition "World of Minerals"
Come and enjoy the fascinating collections exhibited for You. There are five great permanent exhibitions awaiting to take You back hundreds years ago to the very beginning of the Moravia's history. Just push the door and keep Your eyes open. The breathtaking adventure begins.
Last modified: