Memorial of the Kralice Bible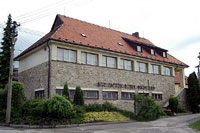 The Memorial of the Kralice Bible is housed in a building next to the fortified settlement where between 1578 and 1620 a secret printing house of the Czech Brethren was located. The books printed here were not only religious ones (bibles or hymnbooks) but also various secular works and schoolbooks. Its most important product, however, is the so called Kralice Bible in six volumes representing both a masterpiece of printing art in this country and - thanks to the high quality of its language - a treasure of the Czech language having contributed to its preservation and development during the anti-reformation period.
The permanent exhibition "Work of the Czech Brethren Printers" introduces the visitor to the history of the printing house from the beginning of its existence in Ivančice till its definitive end in Lešno. The main attention is paid to its functioning in Kralice nad Oslavou. The visitor can discover the leading personalities of the printing house, the richness of its production and the background of the printers' work. Besides the permanent exhibition you can visit a long-term display "J. A. Komenský (Comenius) and Contemporary Moravia".
The construction of the Memorial started in 1967. It was carried out by the Moravian Museum, the Municipality of Kralice and the Museum Association according to the plans by the outstanding Czech architect and town-planner Prof. Bohuslav Fuchs (1895-1972). The permant exhibition was inaugurated on September 28, 1969. Its author, Dr. Vlasta Fialová, wanted to show the wealth of the Kralice past and especially its most famous period - that of the printing house of the Czech Brethren. On September 6, 1970 an exhibition on Comenius was opened on the ground floor of the Memorial on the occasion of the 300th anniversary of his death.
Address:
Kralice nad Oslavou
Phone: +420 568 663 619
E-mail: kralice.pamatnik@seznam.cz
From the history of Kralice nad Oslavou
RENOVATION OF THE FORTIFIED SETTLEMENT IN KRALICE NAD OSLAVOU
THE WORK OF THE CZECH BRETHREN PRINTERS
The permanent exhibition shows the visitor round the life of the printing house in a large cultural historic perspective. It makes clear the importance of the printing house for the pedagogical activities of that time, for the Czech Brethren as a Church organisation as well as for the art of printing itself. Besides numerous original objects (types and requisities) discovered in a unique amount during the excavations on the site, the visitor will find many artefacts documenting the everyday life of the printers. Part of the exhibition is a working replica of the printing machine able to print facsimiles of some pages of the Kralice Bible.
[Historical Department]









LABYRINTH OF THE LIFE OF JAN AMOS COMENIUS
The new exhibition on J.A. Comenius conceived as a life story of the great man of the Czech history makes the visitor acquainted with important European personalities of the late 16th and especially 17th centuries who interfered in his life (or in whose lives he interfered) and influenced strongly not only his own life but before all the lives and world view of their contemporaries. The exhibition combines the written, pictorial and three-dimensional evidence on the given period and famous personalities, their role and influence on Comenius' destiny. In connection with his contemporaries (mostly eminent personalities of Czech and European history) the authors show the lifelong way of one the prominent personalities of Czech history into the Pantheon of European great men and his contribution to the much discussed European cultural heritage.
[Historical Department]









THE WORK OF THE CZECH BRETHREN PRINTERS
Publication: Catalogue " The Work of the Czech Brethren Printers" (in press)
exhibition leaflet
guided tours for groups and individuals
videoshow: "Pilgrimage to the Czech Brethren Printers" ( 40 min)
presentation of the printing press, making of the facsimile of one page of the Kralice Bible
LIFE LABYRINTH OF JAN AMOS
videoshow: "Exile J. A. Komenský" (45 min)
chronological table
guided tours for groups and individuals
The Memorial of the Kralice Bible is run by the Historical Department of the Moravian Museum. Guided tours can be booked on the above mentioned phone number.

By car: E 15 road from Brno, direction Prague, in Troubsko turn left (road No 23), direction Rosice.
By train: From Brno main station take a train to Třebíč.

Map of the surroundings of Kralice nad Oslavou



Last modified: